General Classroom Information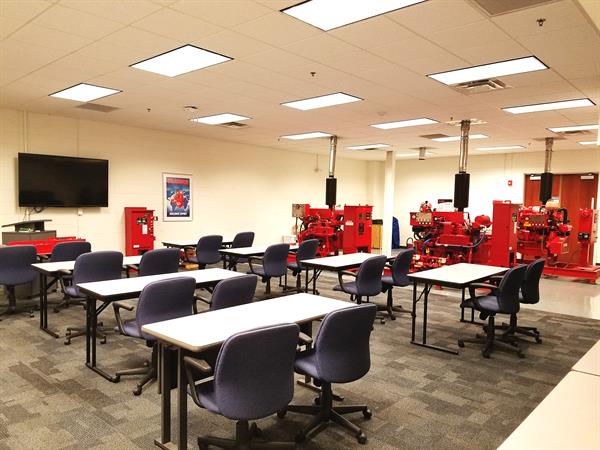 Our classroom and training lab is located at the Clarke Fire Protection Products Global headquarters at 100 Progress Place, Cincinnati, OH 45246. The working lab has a running mechanical injection and electronic injection engine with controllers. All training sessions blend classroom lecture with "hands-on" experience on live engines at the appropriate times.
Training session enrollment is completed online for the Application, Installation and Start-Up Service Class and Advanced Service, Diagnostics and Repair Class. A Training Confirmation will be emailed to you as soon as Clarke Fire Protection Products verifies your enrollment. A payment link will also be included in the confirmation email.
Classes can be tailored to meet the specific needs of Clarke Fire Protection Products customers.
All classes start at 8:00 am and conclude daily at approximately 4:00 pm EST.
Training sessions are typically one to two days in duration.
Clarke Fire Protection Products reserves the right to cancel or reschedule any class.
2020 Training Dates
In reaction to the CDC's Interim Guidance for Businesses and Employers to Plan and Respond to Coronavirus Disease 2019 (COVID-19), all future class dates will be on a 'to-be-determined' basis. Please confirm class registration before finalizing your travel arrangements.
Application, Installation and Start-Up Service Class
August 18, 2020
November 17, 2020
Advanced Service, Diagnostics, and Repair Class

July 21-22, 2020
September 15-16, 2020
November 17-18, 2020
Recommended Hotels
Courtyard Cincinnati North at Union Centre
6250 Muhlhauser Road
West Chester Township, OH 45069
513-341-4140 Phone
Hampton Inn & Suites Cincinnati - Union Centre
9266 Schulze Drive
West Chester Township, OH 45069
513-341-2040 Phone
Comfort Suites
1234 Omniplex Drive
Cincinnati, OH 45240
513-551-5030 Phone
Recommended Transportation
Executive Transport
800-990-8841